3G Cardio Elite Runner Treadmill is recommended choice
As a runner, finding the right equipment to support your training and performance can be a game-changer.
Among the various options available in the market, the 3G Cardio Elite Runner Treadmill stands out as a reliable and efficient tool for runners. In this blog, we will discuss the reasons why the 3G Cardio Elite Runner Treadmill is a great choice for runners.
3G Cardio Elite Runner Treadmill was selected "Highest Rated" in our 2022 and 2023 Big Guy Treadmill Awards. The 3G Cardio Elite Runner Treadmill demonstrated its superiority, outperforming four of its competitors with an impressive overall rating and value score of 95 – the Peloton Tread 3500 (92), 3G Cardio Pro Runner (91), LF Club 95T (88) and Bowflex T10 (87).
The 3G Cardio Elite Runner Treadmill praise is in the details, and it has been deemed an A grade from the Big Guy Treadmill Review team for its overall comfort and design, cushioning and feel, handlebar placement as well treadmill stability.
The 3G Cardio Elite Runner Treadmill earned an A for Overall Buying Experience, in addition to a spectacular A+ grade for Customer Service and a B for Ease of Assembly. With its 4.0 HP motor, it matched the LF Club 95T and Bowflex T10 as one of the 11 leading models tested – all with the most powerful motors available!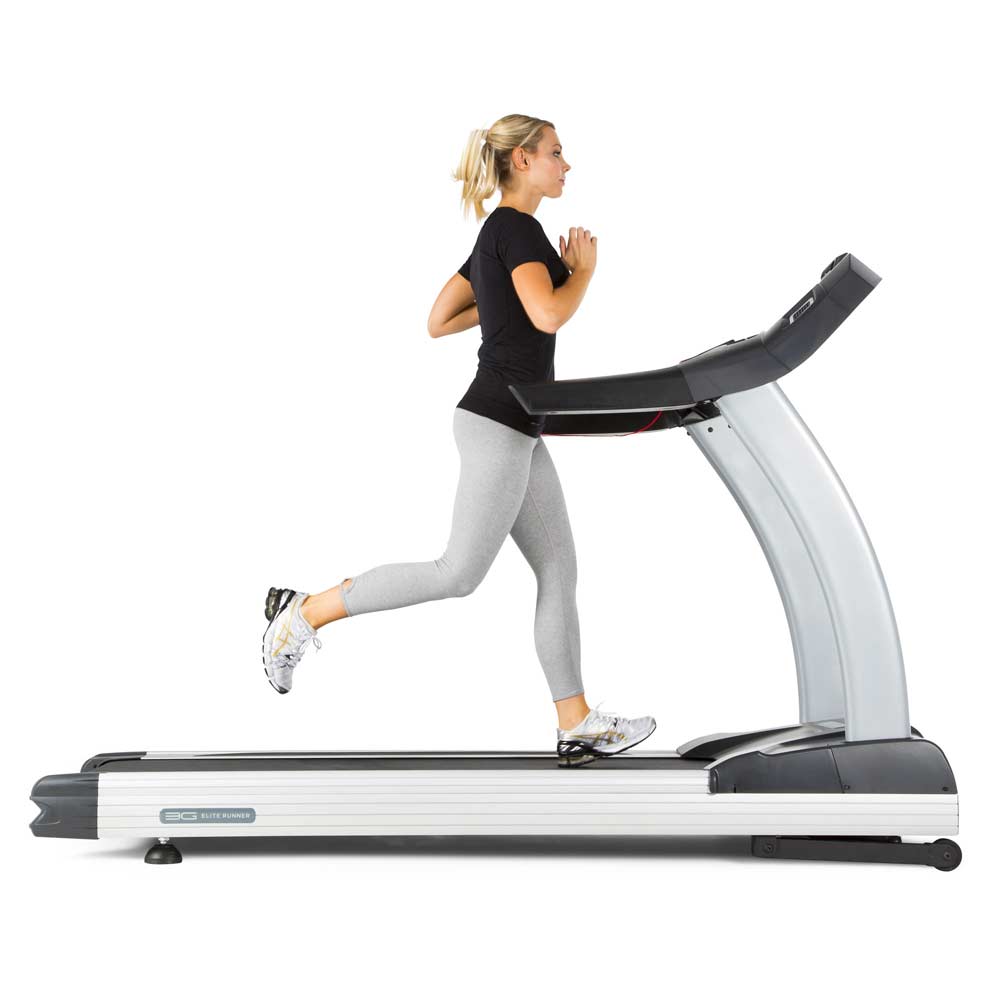 First and foremost, the 3G Cardio Elite Runner Treadmill is built with high-quality materials that ensure durability and stability during use.
It has a sturdy frame made of commercial-grade steel and is capable of accommodating users up to 400 pounds in weight.
The running belt is spacious, measuring 22 inches by 62 inches, providing ample space for runners to move and stretch their legs. The belt also has a cushioning system that reduces the impact on joints, making it a comfortable and safe option for runners.
The treadmill's powerful motor is another highlight of the 3G Cardio Elite Runner Treadmill. It has a 4.0 HP DC motor that can reach speeds up to 12 mph, allowing runners to engage in high-intensity workouts. The motor also has a built-in cooling system that prevents overheating and ensures smooth and quiet operation.
With the 3G Elite Runner Treadmill, you'll find it topping the rankings for deck, belt, warranty and more. If your goal is to get a high-quality treadmill that supports up to 350 pounds of weight capacity or more – this should be at the top of your list! The reviews don't lie; time after time people are blown away by how well designed and reliable this machine is.
The 3G Cardio Elite Runner Treadmill comes with a variety of workout programs that cater to different training goals. It has eight built-in programs, including interval training, fat burning, and heart rate control, and three customizable programs that allow runners to create their own workout routines. The treadmill also has a wireless chest strap that monitors the user's heart rate and adjusts the workout intensity accordingly.
The console of the 3G Cardio Elite Runner Treadmill is user-friendly and easy to navigate.
It has a large, backlit LCD display that shows workout statistics such as speed, distance, time, calories burned, and heart rate. The console also has built-in speakers and an audio jack that allow runners to connect their devices and listen to music while training.
Finally, the 3G Cardio Elite Runner Treadmill has a compact design that makes it suitable for home use. It has a folding mechanism that allows it to be easily stored when not in use, saving space in the house. The treadmill also comes with a lifetime warranty on the frame and motor, making it a long-term investment for runners.
In conclusion, the 3G Cardio Elite Runner Treadmill is an excellent option for runners looking for a reliable and efficient tool to support their training and performance. With its sturdy frame, spacious running belt, powerful motor, and versatile workout programs, this treadmill is capable of delivering high-quality workouts that cater to different fitness goals. Its user-friendly console, compact design, and lifetime warranty make it a practical and cost-effective choice for runners who want to train in the comfort of their own home.